New Park Planned for Lady's Island SC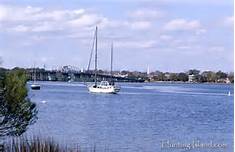 The last buildings have been torn down to make way for Northern Beaufort County newest park and scenic vista. The gateway to Lady's Island from downtown Beaufort SC will now have a park and beautiful open vistas of Factory Creek as you come on to the island.
According to the Beaufort Gazette the Beaufort County Open Land Trust purchased the property near the Lady's Island boat ramp over a year ago for $1.45 million. The project has been delayed waiting for a barber shop and realty co. to vacate the land.
As the buildings have come down the difference is remarkable, as they no longer block the views of the river. "The impact for residents is so immediate and profound because we've essentially opened this window for every resident and visitor to see Beaufort and Factory Creek and this extraordinary marsh," land trust executive director Patty Kennedy.
The park plan is for new benches, walking paths, picnic tables, and existing dock will become a fishing pier.
Newest properties available on Lady's Island Search all available Lady's Island real estate
16 photos
NEW
$950
2 beds,
2 baths
1694 sq. ft.
mls no. 134739
Condo/Townhouse
Move in Ready! Fully furnished 2 bedroom, 2 bath condo on Ladys Island at "The...
Courtesy of Charles Street Realty, Llc
13 photos
$152,900
3 beds,
2 baths
1354 sq. ft.
mls no. 124642
Single Family Home
Recently renovated 3 bedroom, 2 bath home located in Partridge Woods. This home...
Courtesy of Island Realty Of The Lowcountry
22 photos
NEW
$159,900
3 beds,
2 baths
1338 sq. ft.
mls no. 135024
Single Family Home
3 Bedroom, 2 Bath home on Ladys Island for sale on over 1 acre in a great...
Courtesy of Charles Street Realty, Llc
Richard Neill Lady's Island SC real estate for sale,
EXIT Realty of Beaufort agent specializing in retirement and second homes. Expert service for Port Royal, Burton, Lady's Island, Saint Helena Island, Dataw Island, Harbor Island, Fripp Island, and Beaufort SC. Put my local knowledge to work for you with the Beaufort SC Best Home Search. All the tools and information you will need for local real estate. Ask his customers…Cell 843-812-3487